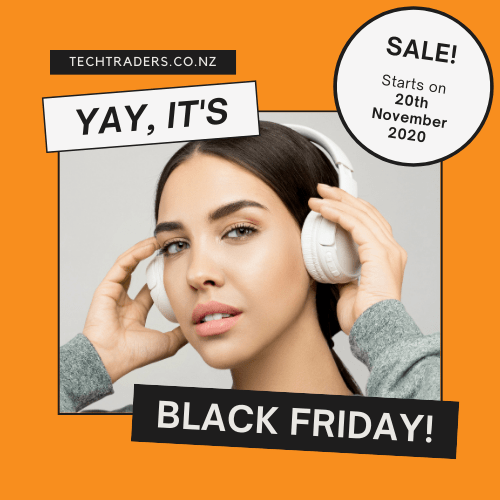 Black Friday Sale coming soon …
Black Friday NZ is coming soon so be sure to check right back here on Friday, 27 November 2020 for our biggest Black Friday sales instore and online.
Reach TechTraders for one of the biggest shopping days of the year 2020 – Black Friday! Black Friday NZ this year is Friday 27th November 2020, and is considered as the beginning of the Christmas shopping season for all New Zealanders. So if you're an organised shopper and hate last-minute panic leading into Christmas, then Black Friday shopping is for you! We'll have our biggest Black Friday sales and deals right here online, and if you're a subscriber we guarantee you'll be the first to hear about them. Not a Techtraders member? Sign up now. If you love a bargain or you're saving up for something big, you might want to keep track of Black Friday – the biggest shopping day of the year. We'll have big discounts on your favourite brands and our best black friday deals are expected to sell out so make sure you visit TechTraders website this BLACK FRIDAY.
What is Black Friday?
Black Friday marks the start of the holiday shopping season! Our online store hold huge sales in the lead up to Christmas, where customers will get epic deals on their favourite brands and massive discounts on almost all product categories. If you love a good bargin and want to get your Christmas shopping done early, make sure you subscribe/register to be the first to hear about our epic Black Friday deals.
When is the Black Friday sale?
Black Friday is traditionally the day following Thanksgiving Day in the United States since 1952. Here in New Zealand we will kick off Black Friday Sale one week before Black friday, 20 November 2020.
"Why shop only one day, when you have an entire week to shop at lowest prices"
meanwhile feel free to
visit our shop …